Gero Nurse Prep students increase their knowledge by over 20%!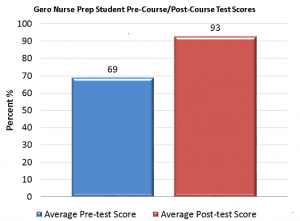 Considering the fact that two-thirds of nurses have no elder care training at all, our course should be of great interest to you. Rich in content applicable to the positive outcomes for the growing aging population, Gero Nurse Prep effectively educates your RNs, as demonstrated by their pre- and post-course test scores (required to achieve 90% or better), and prepares them to pass the ANCC board certification exam.
AHCA/NCAL research found that nursing facilities with at least one RN who is ANCC board certified in gerontological nursing have:
Lower re-hospitalization rates
Lower rates of off-label antipsychotic use
More Stars – Twice as likely to receive a CMS 5-Star rating
Why gamble with quality care? Smarter RNs are a sure thing!
Take advantage of our special offer of $100 off the course registration fee by entering the promo code VBPRN17 during registration. This offer ends on November 30, 2017!
Visit our website or call today! 402.559.1990 or 402.559.6565